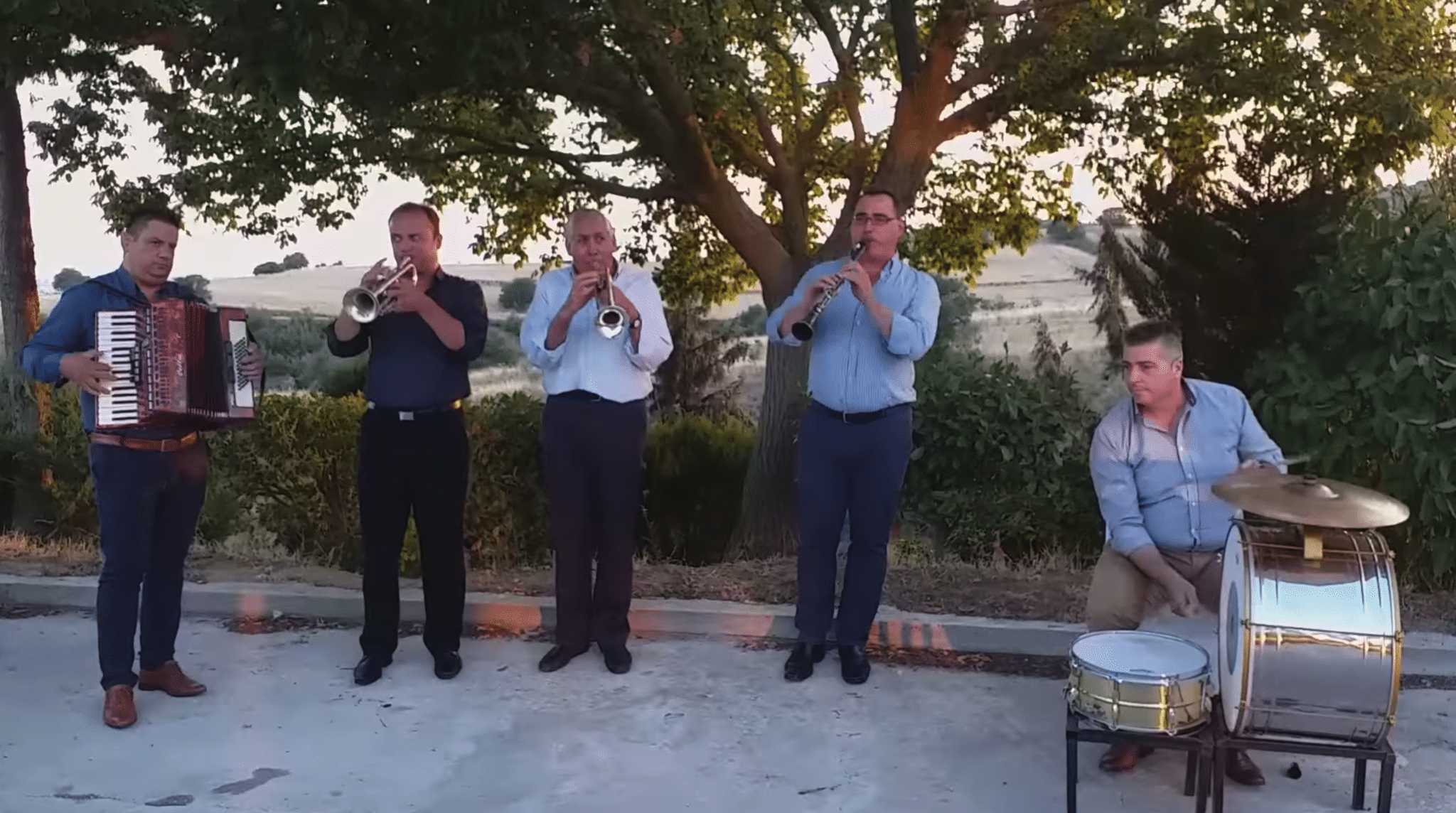 From Veroia Imathias (Greece) the Dimitris Parasxos band!
BALKAN NIGHT NORTHWEST features bands with membership from all the Balkan countries as well as home-grown aficionados. In years past we have had over thirty bands, just from the Seattle area! Amazing!
BALKAN NIGHT NORTHWEST is an annual festival showcasing Pacific Northwest Balkan musicians organized by an all volunteer committee and dedicated to fostering a vibrant Balkan music and dance community. Proceeds from the festival go towards identifying and enhancing cultural connections between various Balkan communities of the NW through music and dance, and bringing Balkan musicians from afar and showcasing them at the festival.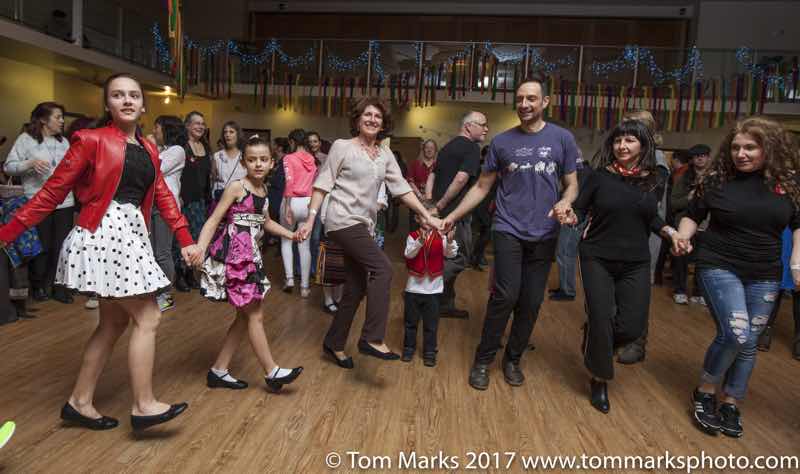 RUTH HUNTER has been an active participant at the Mendocino Balkan Music and Dance Camps since the early '80s, and has been a resident of the Pacific Northwest since 1998. "I always felt that there was such a long empty space after New Year's but before Balkan Camp time and felt that we should create an event to liven things up in the spring!" Ruth plays Greek and Balkan music in Drómeno with her husband Christos and their kids, and she directs the youth choir at Saint Demetrios Greek Orthodox Church in Seattle.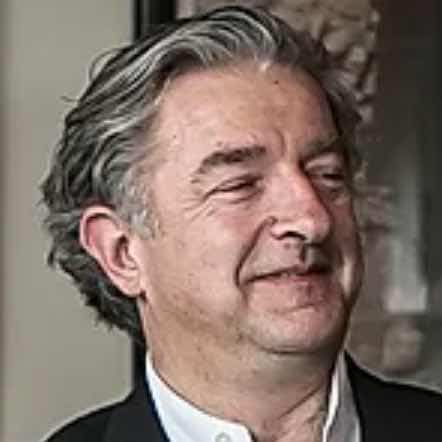 CHRISTOS GOVETAS moved to this country in his teens, where he discovered his love of traditional music and went on to learn regional music from all over Greece, and beyond. Christos brings his 35 years of performing experience and dedication for the dissemination of the culture and traditions of the balkans and is a beloved teacher in many music and dance workshops. He has performed and toured extensively in the US, Canada, Europe and Greece. Christos is the 1999 recipient of the prestigious Northwest Folklife Fellowship Award honoring his cultural contribution to the Greek-American and Folk dance communities. He is also a member of Bill Frisell's  Grammy nominated The Intercontinentals. He and his wife Ruth Hunter are also the recipients of the Ethnic Heritage Council's Gordon Ekvall Tracie award of 2017.
JOHN MOROVICH is a musical leader in the Pacific Northwest, having worked with many folklore ensembles across the US and Canada. He plays tamburica, sings, teaches singing, music and dancing and brings a vibrant and enthusiastic presence into whatever he does. He is currently the artistic director for the Seattle Junior Tamburitzans. Through his many years in the Seattle area, John has developed relationships with musicians and cultural groups from across the Balkans, giving him a unique ability to bring people together.
FREQUENTLY ASKED QUESTIONS
What Is Balkan Night Northwest?
Balkan Night Northwest (BNNW) is a non-profit organization that coordinates this annual event dedicated to fostering a vibrant Balkan music and dance community in the Pacific Northwest. The volunteers who produce the event and serve as the executive steering committee are Christos Govetas, Ruth Hunter and John Morovich.
Can My Band Perform at BNNW?
To be considered for a set at BNNW, all interested groups must apply. The application for consideration is a link on this website. Please fill it out completely. Incomplete applications will likely disqualify bands from consideration. The deadline for submitting an application is November 15, 2019. Submitting the application is not a guarantee to perform at BNNW. Groups will be notified by December 15, 2019.
How Much Will My Band Get Paid?
All performers at BNNW are volunteering their creative time and foregoing payment for services or travel. Bands that have recordings and/or merchandise, plus a person to manage sales, will be able to sell items at BNNW. No percentage is taken from sales.
If My Band Doesn't Get Paid, Then What Is Done With All the Money?
After meeting production expenses, all proceeds from BNNW are donated to organizations that encourage and support Balkan music and dance. In 2012, 2013, 2014, 2015, 2016, 2017 and 2018 proceeds from the first festival went to the Russian Community Center, the Seattle Balkan Dancers, Balkan Festivals Northwest (producers of balkanalia!) and the East European Folklife Center (producers of the Balkan Music & Dance Workshop in Mendocino). Additionally, BNNW provided funding for youth scholarships at balkanalia! and two half scholarships to Mendocino Balkan Music and Dance Camp.
Funds are also used to bring world class acts to the event from outside the Pacific Northwest.
Who Has Received Scholarships?
Scholarship Recipients
Mendocino Balkan Music and Dance Camp Awards:
2012: Ema Sheehan
2013: Danielle Smith
2014: Theodora Teodosiadis
Balkanalia! Awards
2012: Jorge Kachmarik, Vesko Nenchev, Paul Stovall
2013: Tenaya Cooley, Sonia Healy, Yana Healy, Iglika Arabadjieva
Testimonials:
"Every single day of Mendocino Balkan Camp I found myself asking, "Is this real?" There was music, singing, and dancing everywhere. Some of the most talented musicians came for the week and shared their knowledge and techniques. There was definitely no lack in classes to learn from. Then, every night there was a party. Not just at one venue, but two. And not just a party, but really, A party until the early hours of the morning.
Teachers played with their bands and even students were given the opportunity to perform. One of my highlights was playing for the Albanian Ensemble at the last concert. We were able to show how much work we put into the week. On top of this, we were hidden underneath the redwoods, the stars were beautiful, and the food… oh my… the food!
Thanks to Balkan Night Northwest Scholarship, I was given the opportunity to be a part of this camp. My gratitude cannot be shown enough. From the beginning, I felt instantly included into this new Balkan family. I felt very well taken care of and since I was a new face in the camp, people constantly made sure I was having a good time. Camp now has brought me into this new Balkan community where I suddenly have many places and people to visit. Camp also gave me this newfound energy toward Balkan music.
I cannot wait to show up next year and blow everyone's minds on how well I have improved on my violin. Thanks again Balkan Night NW Scholarship!!!"
—Theodora Teodosiadis 9/10/2014
"How does one really sum up an experience like Balkan Camp? This being a small and somewhat underground community in the states, finding teachers can be really challenging. Receiving the scholarship from Balkan Night NW provided me with an opportunity of life-changing magnitude where I studied with some of the most wonderful master teachers for Balkan music and dance in this country. Having them all in one place was a dream! I had millions of questions ever since I started my journey down this Balkan music and dance path, and teachers at Balkan Camp went above and beyond answering my questions, and better yet, left me with many more amazing concepts to explore. Furthermore, I did not only learn from the teachers, but every moment was an experience that opened my eyes to understanding more about the authentic cultures and languages connected to Balkan music and dance, as well as the specific and very special culture and adaptations Americans share in expressing art of a culture they may not have been born into. I felt completely at home.
The classes were a perfect mix of technique and history/cultural context. Each day I made a new connection, each night at the performances and dances I learned just as much as I did in class. It was fantastic seeing the teachers out on the dance floor and everyone supporting some really amazing all-ages celebrations. And I haven't even mentioned the incredible environment of the Mendocino Woodlands themselves!
If I could live at Balkan Camp I would, and I intend to return to that unbelievably vibrant event as often as possible."
—Danielle Smith, 2/10/2014
How Do I Get to Balkan Night Northwest?
This year the event takes place at the St. Demetrios Greek Orthodox church function halls, located at 2100 Boyer Avenue East, Seattle, WA on Saturday, March 7, 2020 from 5pm-12pm. Map. A Sunday evening performance will also scheduled at a location TBD.
Metro bus service is available, and there is parking on the street throughout the neighborhood.
Will Food and Drink Be Available?
Yes! The St. Demetrios Greek folk dance program and the Seattle Junior Tamburitzans will be staffing a no-host bar, along with delicious food offerings for sale.
I Want to Help! How Can I Do That?
Your help would be greatly appreciated! Please complete the volunteer form above.
We would like to thank our Sponsors
Balkan Night Northwest is sponsored by The Seattle Balkan Dancers and by these organizations.
Please contact us if you would like to sponsor Balkan Night NW.