Balkanarama plays popular songs of the '70s, '80s and '90s from southeastern Europe, including many songs of the Roma, who migrated from India to Europe about a thousand years ago. The Seattle quintet uses modern instruments heard at contemporary weddings in the Balkans – alto sax, clarinet, keyboard, drums and bass – and four voices singing in eight languages. Balkanarama has performed at festivals, weddings, dance parties and concerts in the Pacific Northwest since 1997 and has released three CDs. You can follow them on Facebook!
Members:
Ferko Saxmanov, Alto Sax and Vocals
Eva Moon, Keyboard and Vocals
Michael Gordon, Clarinet and Vocals
Susan Niemann, Drums and Vocals
Kirk Hilse, Electric Bass
Bonaca Seattle started making music in 2010 when its founding members wanted to create a group that could play like a great tamburica band but also sing like a traditional Dalmatian klapa. Bonaca's repertoire includes both traditional and modern songs from Croatia and its surrounding countries, as well as some American classics.
​
Members of Bonaca also comprise the Ruže Dalmatinke Orchestra, which provides the music for the dances of the Vela Luka Dance Ensemble. Bonaca has also had the honor of sharing the stage with Dave and the Dalmatians, The Radost Folk Ensemble, Dunava, Orkestar Zirkonium, and a number of other talented performers in the Pacific Northwest.
The choir is in it's 12th season.  The choir was founded by Mary Sherhart in 2011.  Mary created a treasure both in the beautiful performances and the community that formed around the choir. Michael Lawson, the choir's frequent accompanist on accordion, began directing the choir in 2017. During the pandemic the choir made several videos which can be found on the BCHCS Youtube channel. The choir is open to any Bulgarian woman who wants to sing.  The choir performs in traditional costumes 4-5 times per season.
Datina Taraf & Folk Ensemble

Bringing over 20 performers on stage, Datina will onboard you on a musical journey to various regions of Romania, old and new. With their energetic Taraf and vivacious dancers, they celebrate this year their 10th anniversary since bringing Datina to life in the Pacific Northwest! They are more than a band, rather a living testimony of perennial Romanian traditions, costumes, arts and crafts!
Dunava (from Дунав, the Bulgarian name for the Danube river) is a Balkan women's choir, made up of singers with broad musical and performance experience and a passion for intricate harmonies and varying vocal technique. Dunava is dedicated to studying and performing traditional and arranged folk songs from Eastern Europe with respect and authenticity, and introducing audiences to these beautiful vocal traditions and songs. Follow them on 
Facebook
 and check out their recordings on 
Bandcamp
. 
Singers: 
Anne Egger
Dina Trageser
Fiore Grey
Gedney Barclay
Jen Morris
Jenny Sapora
Meredith Selfon
Olivia Gunton
Ramona Wijayratne
Tedy Dimitrova
Stephanie Boegeman
Dragi & Macedonian All Stars Band
Dragi Spasovski was born in the small village of Studena Bara, near Kumanovo, only 25 km from Skopje. His family moved to Skopje when he was 4, and Skopje is the place where he made his first steps in exploring life, art, music and dancing. He was "the" actor in elementary school drama, then joined the school ballet group, and finally, influenced by his mother's singing, mostly in their home, he found himself swept away by the folk spirit.
Drómeno pulls from the deep currents of the intertwined traditions of Greece and the Balkans to bring you  magnetic harmonies and intoxicating rhythms skipping across the borders of Northern Greece. Headed by Ethnic Heritage Council award-winning couple Christos Govetas and Ruth Hunter on clarinet, accordion, and voices, this group follows the tradition of legacy bands from the Balkans, including their grown children, Eleni and Bobby Govetas.
Christos Govetas, Clarinet and Voice
Ruth Hunter, Accordion and Voice
Eleni Govetas, Saxophone and Violin
Bobby Govetas, Bass
Mik Bewsky, Guitar
Nico Sophiea, Drums and Doumbek
Eleni Govetas Kompania showcases Eleni's original Balkan-inspired original compositions on violin. Eleni Govetas writes and performs music in the Balkan style, using a musical vocabulary that permeates that whole region. Soulful melodies with a healthy dose of grit layered with Mik Bewsky's surf-punk inspired guitar virtuosity introduce you to a whole new genre of music you never knew you needed!
She joins forces with brother Bobby Govetas holding it down on Bass, and Nico Sophiea on Doumbek.
Eleni Govetas, Violin
Mik Bewsky, Guitar
Bobby Govetas, Bass
Nico Sophiea, Doumbek
Gin & Pontic
Several years ago Brent heard Pontic music for the very first time & immediately felt the earth shift. Later he was gifted with a kemence from Istanbul and there was no turning back. He teamed up with Maria, a talented singer, drummer, and Balkan music collaborator – and Gin & Pontic was born.
Balkan camp, bootlegged dance CDs, and Balkanalia soon followed. Then, the very generous teachings of lyra master Dimitris Amperidis, who mentored Brent through Skype lessons from Northern Greece. It has been a glorious adventure.
We play the dance music and songs of the Pontos region of northeastern Turkey, on the Black Sea coast. Songs of love, work, and history played to ancient dance rhythms fill our repertoire. We hope you enjoy these sounds as much as we do.
Brent Geary, Kemence & Voice
Maria Noel, Daouli & Voice
Christos, Eleni and Bobby Govetas of Dromeno play traditional music from Serres, Greece on zournas and daouli. They will play as a part of this year's Kukeri performance 
Based in Eugene, Kef has been performing dance music of Bulgaria, Serbia, North Macedonia, Albania and Greece since 2006.  Members are a mix of conservatory-trained and traditional folk musicians with a broad range of professional experience. Instrumentation consists of two trumpets, alto sax, accordion, cello and drums.
Nisha Calkins, Cello
Sarah Ennes, Alto Saxophone
Alex Lowe, Trumpet
Samuel Robert, Accordion
Cody Simmonds, Trumpet/Truba
Ken Sokolov, Percussion
Kišobran

Seattle's Croatian Tamburitsa Orchestra!
Lox Stork and Bugle
Veterans of the Bucharest Drinking Team,  Freylekh, and Sub Masa come together to graft new ideas and influences to our sturdy Balkan and Yiddish roots. Join Kevin Stevens (bass), Kim Goldov (violin), Marchette Dubois (accordion), and Peter Lippman (trumpet) on a musical journey to lands familiar and forgotten, real and imaginary
Orkestar RTW is a five-piece band based in Seattle, Washington that started in 1987 as the house band for the Radost Folk Ensemble.  Named in the tradition of post-World War II Balkan radio and television house bands (such as Orkestar Radio-Televizije Beograd), Orkestar RTW (Radio-Televizije Washington) plays the music of those bands, primarily traditional dance and folk music from the countries of Bulgaria, Macedonia, and Serbia.
Michael "Osem" Lawson (accordion) and David "Devet" Bilides (percussion) perform music from the Balkans. They are joined by vocalists Tedy Dimitrova and Dina Trageser. Opa!
Slavej
Slavej (nightingale) performs the folk music of Bulgaria, Macedonia, Serbia, Kosovo, and Bosnia with an emphasis on Romani repertoire. We are composed of seasoned performers living in Eugene and Seattle who helped establish the Balkan scene in the US, researchers with years of experience in Balkan communities, and more recent devotees.
Slavej members are:
Mark Levy, Clarinet
Michael Lawson, Accordion and Vocals 
Cody Simmons, Trumpet
David Bilides, Tapan
Carol Silverman, Vocals
Svirci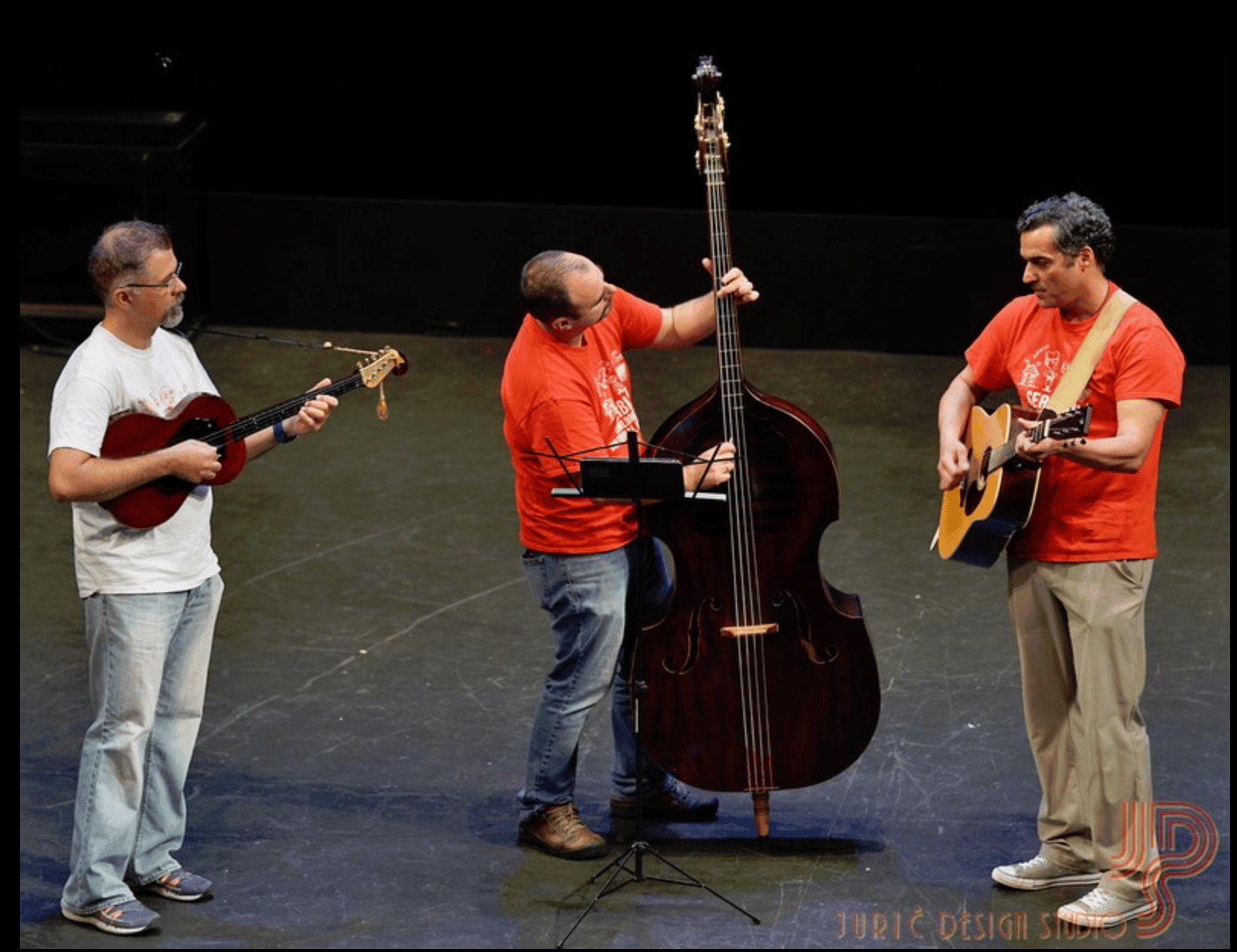 Dejan Subotic and company play lively Serbian Tamburica music for singing and dancing!
Taman
Taman brings their love of Balkan music and heritage to every performance. They are known for creating a joyful and heartfelt experience. You are invited to sing along, dance along, and listen as they bring you into their circle of community.
John Morovich, Accordion and Voice
Talia McGill, Voice
Taraf Dulce & Amar (sweet and sour)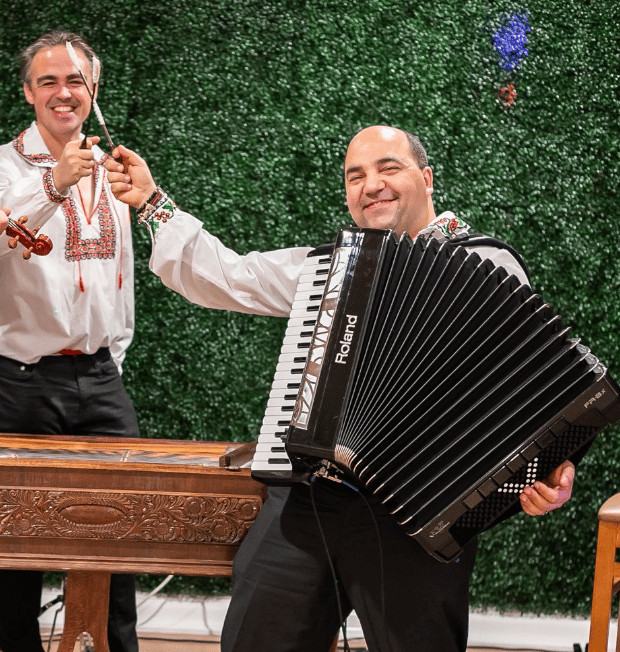 Born in Chisinau in 1981, Moldova, Sergiu Popa is a member of a well-known Roma (Gypsy) musical dynasty in his country. He, like several generations before him, is a virtuoso accordionist who plays not only traditional folk and Gypsy music of Eastern Europe, but is classically trained as well. Sergiu is a master musician at home in the styles of Romania, Hungary, Bulgaria, and so much more! He is joined by cellist Noémy Brown (Nomy) and Balder Ten Cate on cimbalom.
Taraf Pajura
We are a Romanian band and we play not only folkloric music from Romania, but we also approach modern genres, like rock music.
We are a band of two people for now, Alexandru Mihai is the leader of the band and his father Ovidiu Mihai as a support for different instruments.
The band is relatively new and the goal is to intertwine folkloric sounds and tunes into modern music and create beautiful sounds that remind young people, in particular, of their roots and beautiful traditions of the Balkan region.
Alexandru Mihai – Lead Vocal, Violin, Fluier and Caval
Ovidiu Mihai – Back-up Vocal, Drum, Cobza, Caval
Trio Shlokovitsa
Trio Tsuica plays music of Romania, Hungary, and nearby countries. We're based in Portland, Oregon. There are four of us. Long story.
The personnel:
Brent Geary, Violin
Kathy Fors, Accordion
Peter Whitmore, Bass
Paul Beck, Cimbalom / Tambal