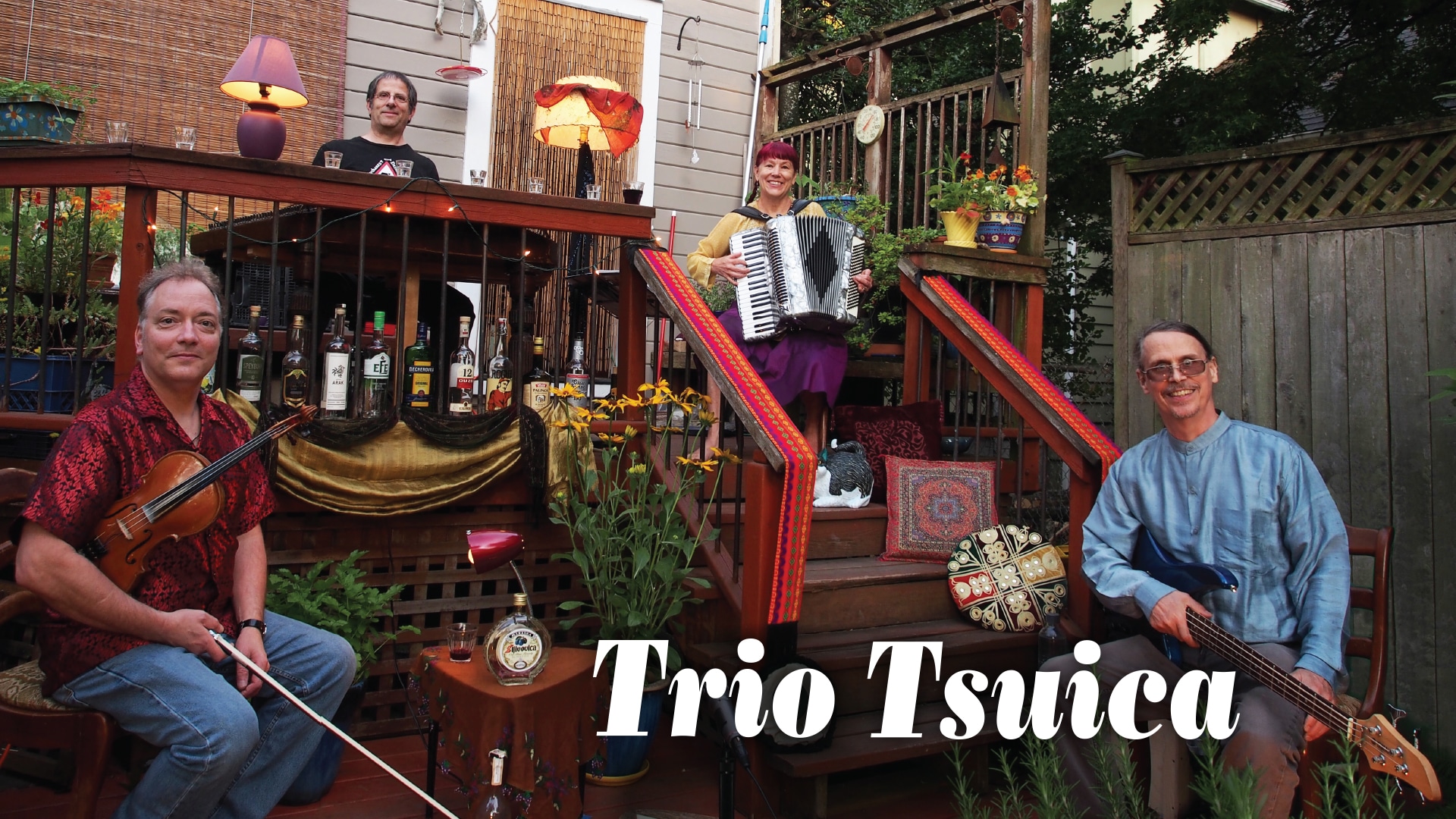 Trio Tsuica plays music of Romania, Hungary, and nearby countries. We're based in Portland, Ore. There are four of us. Long story.
The personnel:
Brent Geary, violin
Kathy Fors, accordion
Peter Whitmore, bass
Paul Beck, cimbalom / țambal
Tip jar: paypal.me/triotsuica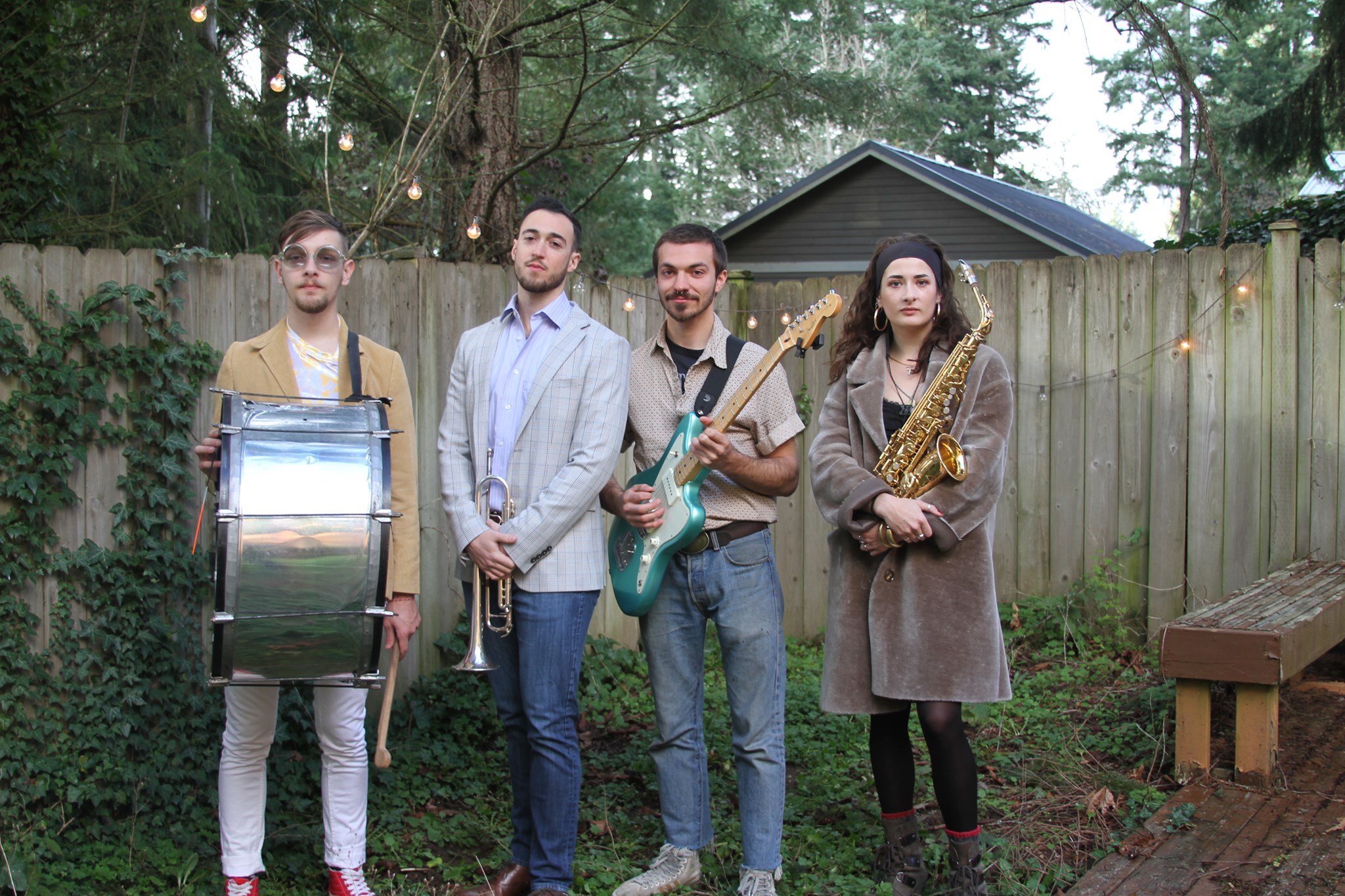 Melez Band exploded onto the scene two years ago with a passionate desire to take traditional Balkan Romani Brass into a fresh new form. Made up of four life-long friends, Melez Band's hot saxophone and trumpet harmonies, layered with Mik Bewsky's agile guitar, propelled by the machine-gun pop of Bobby Govetas's percussion will have you on the dance floor all night long. Fresh from a fall apprenticeship with none other than the legendary Balkan Romani trumpeter, Džambo Agušev, Melez Band has reached a new height, blending Eleni Govetas's soaring saxophone with Benji Rifati's driving trumpet melodies for a tight sound that has been filling clubs in Seattle and beyond. Easily the best Balkan Romani Brass group in the US!
Benji Rifati: trumpet
Eleni Govetas: saxophone
Bobby Govetas: goč
Mik Bewsky: guitar
Tip jar: paypal.me/bgovetas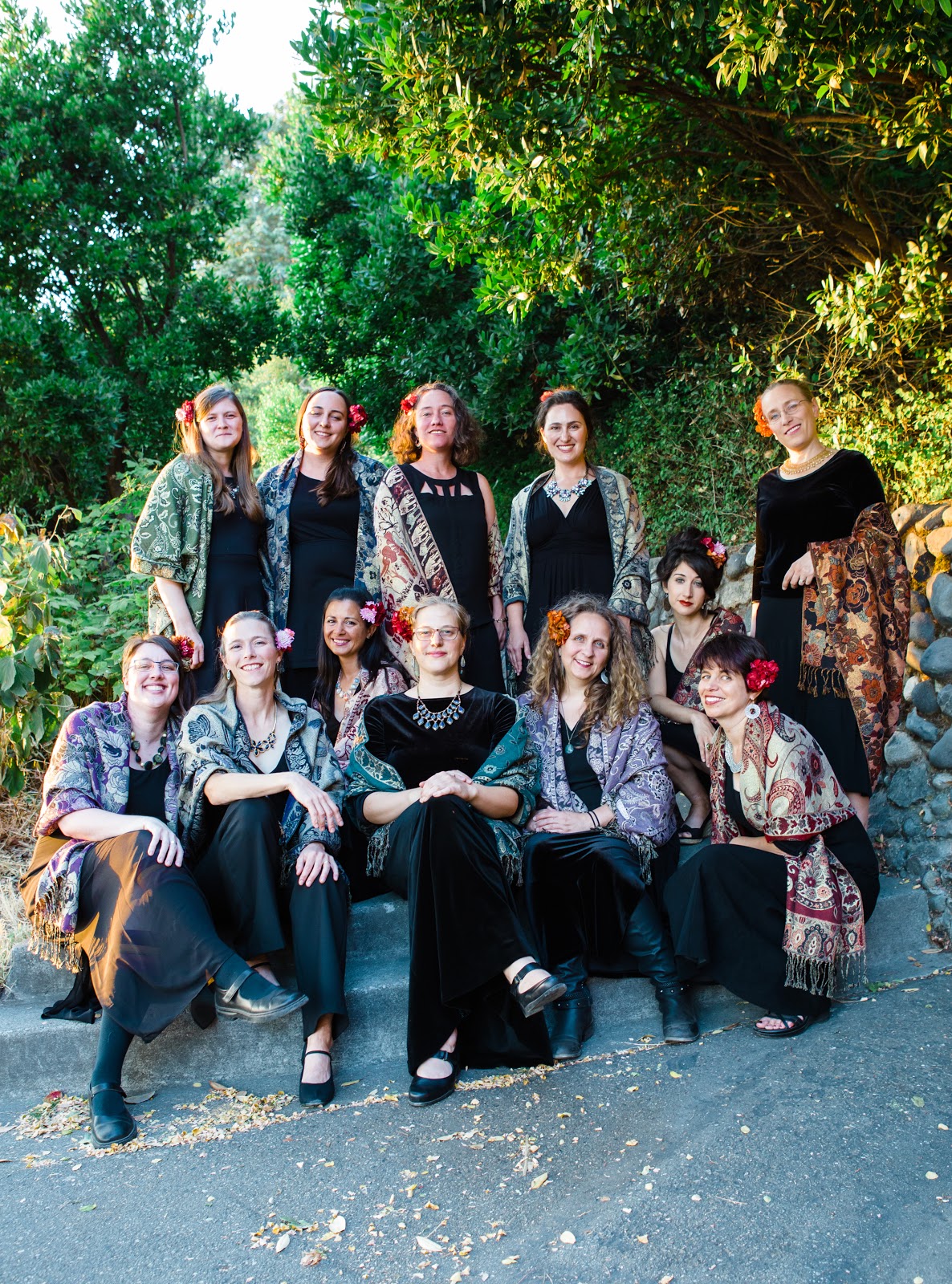 Dunava, or Дунава — the Bulgarian name for the Danube River — is also the name of Seattle's premier Balkan women's choir, made up of singers with diverse musical backgrounds and a wealth of performance experience who share a passion for intricate harmonies and traditional vocal techniques. Founded in 2005, Dunava is dedicated to studying and presenting songs and vocal traditions from the Balkans and Eastern Europe with respect and authenticity. Dunava has performed every year at Balkan Night Northwest since the beginning.
Singers:
Anne Egger, Christi Proffitt, Dina Trageser, Fiore Grey, Hila Lenz, Jen Morris, Jenny Sapora, Meredith Selfon, Olivia Gunton, Raisa Kreek, Ramona Wijayratne, Steph Boegeman, Teodora Dimitrova
Tip jar: paypal.me/RadostFolkEnsemble 
Note: for Dunava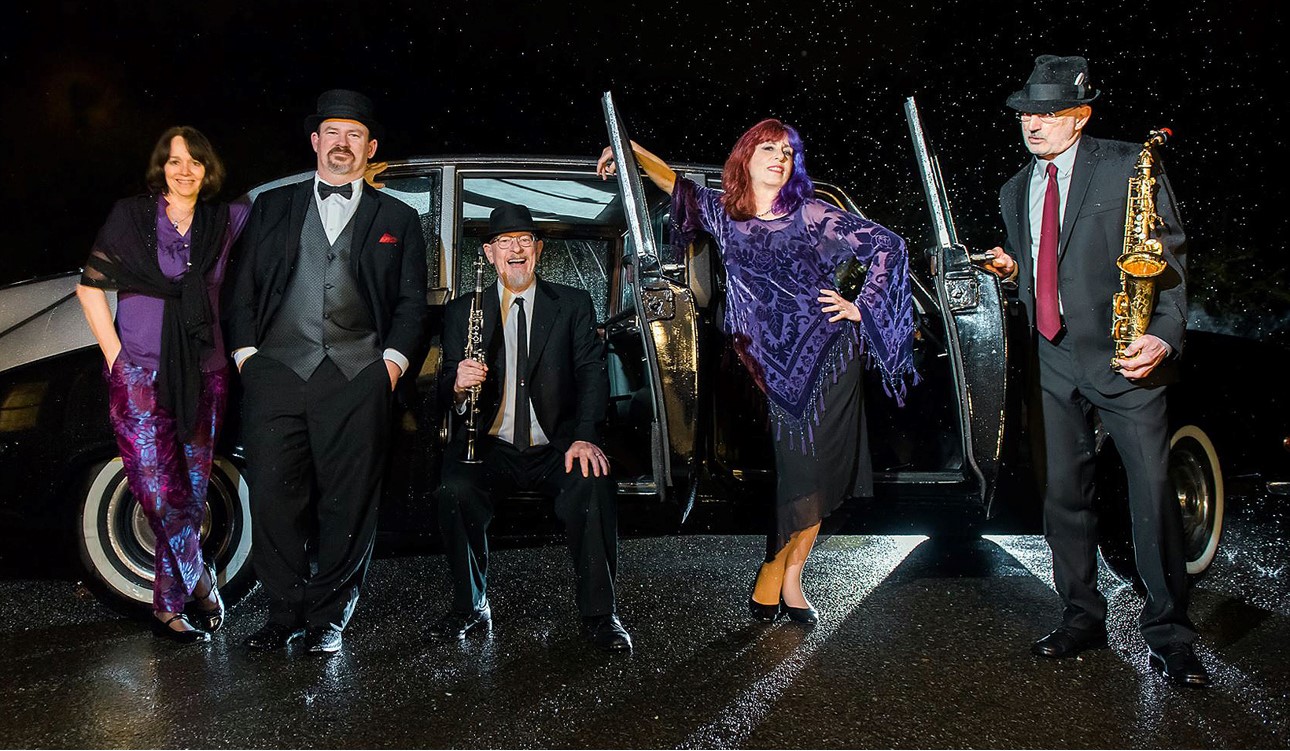 Balkanarama plays popular songs of the '70s, '80s and '90s from southeastern Europe, including many songs of the Roma, who migrated from India to Europe about a thousand years ago. The Seattle quintet uses modern instruments heard at contemporary weddings in the Balkans – alto sax, clarinet, keyboard, drums and bass – and four voices singing in eight languages. Balkanarama has performed at festivals, weddings, dance parties and concerts in the Pacific Northwest since 1997 and has released three CDs. Follow them at facebook.com/balkanaramausa.
Members:
Ferko Saxmanov, alto sax and vocals; Eva Moon, keyboard and vocals; Michael Gordon, clarinet and vocals; Susan Niemann, drums and vocals; and Kirk Hilse, electric bass.
Tip jar: http://balkanarama.com
Dromeno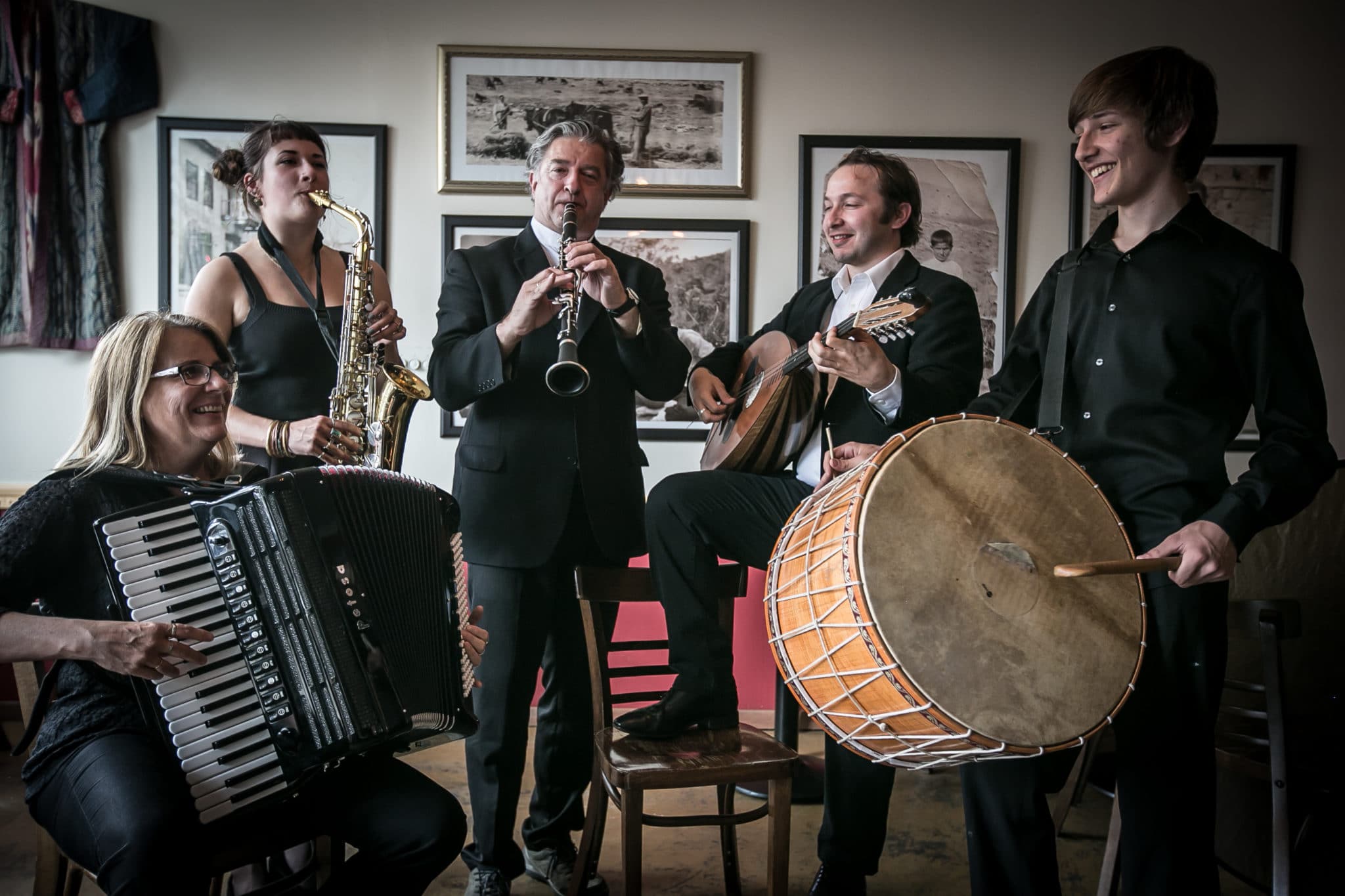 "Dromeno" means "traditional ritual" and is an apt name for this group, presenting regional music from across Greece.In the time-honored tradition of the Balkans, Dromeno represents the dynastic approach to music, where the children join the parents and then take flight in their own musical lives. Parents Christos Govetas and Ruth Hunter form the heart of the group, with Christos' deeply soulful clarinet playing and their vocal harmonies, honed over decades, into an effortless blend. Eleni and Bobby Govetas bring their considerable talent to many instruments, expanding the reach of Dromeno's musical expression, from traditional Macedonian brass, to Eastern Thracian folk tunes. Nick Maroussis rounds out the group weaving the music together with his skillful guitar and laouto playing.
Christos Govetas: clarinet, voice
Ruth Hunter: accordion, voice
Eleni Govetas: saxophone, violin
Bobby Govetas: daouli, defi
Nick Maroussis: guitar 
Nico Sophiea: drums and doumbek
Tip jar: paypal.me/govetas
Govetayfa Zournadhes
Christos, Eleni and Bobby Govetas play traditional music from Serres, Greece on zournas and daouli.
The Fetatones!

The (World Famous) Fetatones will get you on your feet and transport you to a '60s Greek night club with all the hit tunes of the unforgettable Panos Gavalas! Not to be missed!
Fetaoula: voice and keytar
The Big Cheese: voice and bouzouki
Pepper Jack: guitar
Yaourtaki: bass
Bobby Ghanoush: drums
Shpilkis
Founded in 2017, Shpilkis is a 7-piece Seattle-based Klezmer brass band bringing you old-school Yiddish grooves with tuchus-shaking energy.
FB/IG: @ShpilkisSeattle
Tip jar: Venmo: @Shpilkis
Orkestar RTW
Orkestar RTW is a five-piece band based in Seattle, Washington that started in 1987 as the house band for the Radost Folk Ensemble.  Named in the tradition of post-World War II Balkan radio and television house bands (such as Orkestar Radio-Televizije Beograd), Orkestar RTW (Radio-Televizije Washington) plays the music of those bands, primarily traditional dance and folk music from the countries of Bulgaria, Macedonia, and Serbia.
Omeriča

Omerića (Oh-mare-EE-cha) is a six-person American ensemble whose collective résumé includes the US-based Balkan projects Kultur Shock, Bucharest Drinking Team, Sherefe, Balkanarama, Eurodanceparty USA, and the Lonely Coast. Purpose-built for this year's BNNW festival, the group (Marchette DuBois, Amy Denio, James Hoskins, Kai Strandskov, Kevin Stevens, and Anne Mathews) look forward to sharing their unique take on a springtime playlist of beloved, region-ranging songs.
The M9
Founded in 2013, The m9 draws inspiration from high-energy Romani brass bands of Macedonia and Serbia to create a unique soundscape where East and West collide. The fusion of rich Balkan brass tradition, modern jazz, and popular influences from Turkey and Bulgaria create a sound which excites, invigorates, and inspires curiosity about one of Europe's most misunderstood minorities.
Taman
Taman brings their love of Balkan music and heritage to every performance. They are known for creating a joyful and heartfelt experience. You are invited to sing along, dance along, and listen as they bring you into their circle of community.
John Morovich: accordion, voice
Talia McGill: voice